The year 2023 was anticipated to be a time of great opening for China. With the lifting of COVID-19 restrictions, the world expected a swift rejuvenation of the Middle Kingdom's economy. However, six months after the withdrawal of the zero-COVID policy, the latest data portrays a contrasting reality. China grapples with a myriad of issues including decelerated consumer spending, an unstable real estate market, declining export rates, and unprecedented youth unemployment.
China's Shifting Demographics
China's demographic landscape presents a worrying picture, and some geopolitical experts like Peter Zeihan even claim it's the worst globally. The ripple effects of China's one-child policy have had profound, unintended consequences. Although initially successful in controlling population growth, the policy inadvertently sparked demographic challenges, exacerbated by the rapid industrialization and urbanization of the country. As families moved from rural to urban areas, raising children became more challenging due to spatial and economic limitations. Today, China's youthful workforce is dramatically shrinking. With the country's population having peaked over a decade ago, it's projected that by 2030 there will be more retirees than active workers.
A Faltering Economy
After an initial retail sales revival in late 2022, China recorded its second consecutive month of slower demand growth in June 2023. Retail sales only increased by 3.1% compared to the previous year, a stark drop from the 18.4% growth reported in April. According to Bloomberg, due to weak earnings and job insecurity, Chinese consumers are hesitant to spend. Furthermore, the youth unemployment rate reached a record 21.3% in June. This poor economic state, compounded with unfavorable regulations and penalties on thriving private businesses like Alibaba, Tencent, and Didi in 2020-2021, paints a gloomy economic picture.
The lack of domestic demand has contributed to an absence of inflation. China's inflation rate marked its fifth consecutive monthly decline, reaching a flat 0.0% in June 2023. Export, a major driver of the Chinese economy, has also been negatively impacted due to the slowing global economy. The country experienced its third consecutive month of declining export rates in June 2023, which was the most drastic since the onset of the pandemic.
China's Frugal Consumers
Amid dwindling earnings and job insecurity, Chinese consumers are limiting their spending. In June, during the Dragon Boat Festival (one of the most significant festivals in Chinese culture), domestic tourism revenue dropped over 5% compared to pre-pandemic levels. Several factors contribute to this decrease, including record-high youth unemployment in June at 21.3%. With the current economic condition, consumers are more inclined to save than spend money.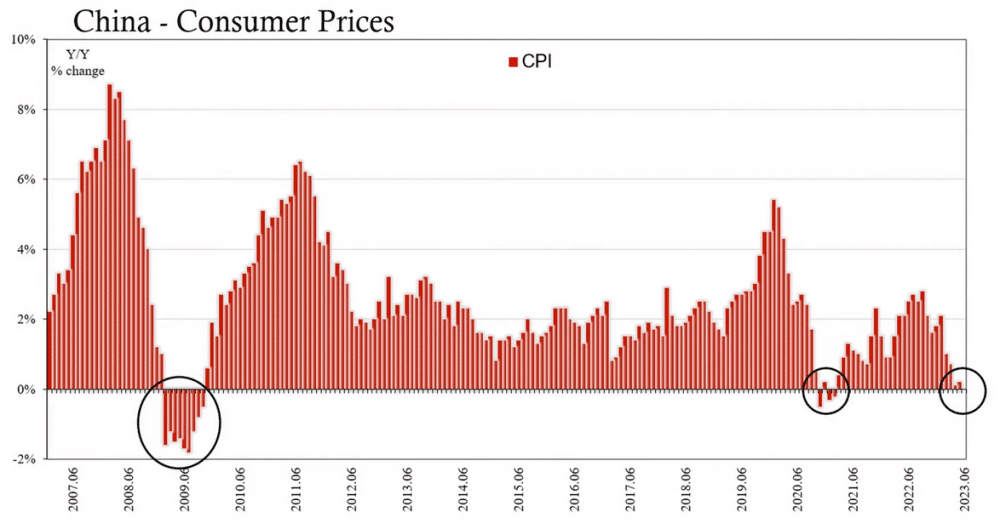 Real Estate Issues
China's real estate market is another crucial sector under strain. In 2020, the government attempted to tackle property developers' debts to minimize financial system risks. However, this led to numerous bankruptcies and a drop in property prices, a blow for many Chinese who viewed real estate as a "safe" investment. Currently, despite a developer aid program introduced in late 2022, the negative trend shows no signs of reversal. Property prices continue to fall, and there is a significant decline in the number of buyers.
The People's Bank of China's Response
In response to the slowing economy, The People's Bank of China (PBoC) reduced interest rates in June 2023. This move, which was unanticipated, has sparked speculation about further reductions. The PBoC is contemplating various measures to stimulate domestic demand. These include relaxing property ownership restrictions, offering tax breaks to consumers, investing more in infrastructure, and incentivizing producers, especially in the advanced technology sector. Nonetheless, the primary challenge remains to stimulate the economy without escalating the country's debt.